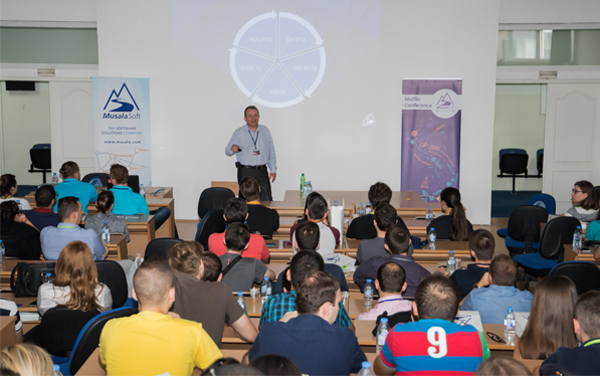 Learn from the Masters
is a master class tailored to the specific needs and interests of those with basic or little knowledge and experience in developing enterprise software solutions.

This unique opportunity will provide you with a hands-on introduction to programming, condensed academic base with many real-life examples and lot of practice with widespread languages, frameworks and tools.

You will meet masters in Cloud Integration, API Management, Augmented Intelligence, BigData, Digital Engagement, IoT and learn from recognized Olympic teams` tutors.

With a strong experiential approach, Learn from the Masters prepares you for a successful career in the software industry.
Master Class Details
Commitment

Participants will be expected to commit to an average of 10-15 hours per week for classwork and practice.
Certificates will be issued for those who finish the course successfully.

Schedule

The 2018 master class starts in October.
If you have any questions, please contact masters@musala.com

Language

The Master class and all materials will be in Bulgarian/English.
Frequently Asked Questions
What is Learn from the Masters?
"Learn from the Masters" is a unique condensed masterclass. It is focused on building software and quality assurance engineers, combining the acquisition of both fundamental knowledge and applied technological skills.
Who is "Learn from the Masters" for?
The initiative is suitable for:
University students in their last years of study
Graduates with a strong mathematical profile (civil engineering, physics, finance, etc.)
Enthusiasts who have passed a software development course or have some basic practical experience and want to take the next step towards developing a strong career in IT
What is studied in "Learn from the Masters"?
"Learn from the Masters" covers fundamentals in Java programming language, Databases, Quality Assurance and CUBA platform.
What language will the lectures be taught in?
The training is in Bulgarian with some teaching materials in English.